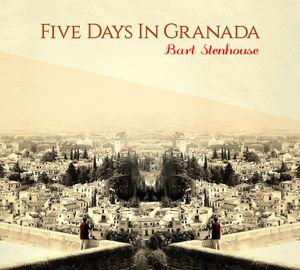 You may have heard along the grapevine that Bart is in the throes of recording and producing two new world jazz fusion albums. Well, today marks day one of
Bart's Pozible crowdfunding campaign
for the chance to finish the production, pressing and launch of the albums.
This has been a big year for Bart Stenhouse. Inspired by his recent travels across North America, Spain and India, Bart has spared no time in developing two new albums that fuse the musical styles of these cultures together in an exotic and unique mix.
Trained as a jazz musician and a skilled multi-instrumentalist, Bart's compositions seamlessly blend dynamic, instrumental melodies and solos with popping Indian rhythms and firey flamenco harmonies.
His first of the two new release albums,
Best of Times
, is an engaging mix of Indian-inspired tempos and tunes featuring tight interplay between electric guitar and jazz saxophone. It is an unusual blend, but one that leaves the listener energised and ready for more.
The second album,
Five Days in Granada
, draws strongly on flamenco chords and harmonies, buoyed by spirited jazz vibraphone and uplifting drum solos.
The albums feature some of Brisbane's best up and coming jazz cats, including Vibraphonist James Whiting, Pianist and Keyboardist Cleon Barraclough, Bassist David Galea, Tenor Saxophonist Ben Byrne and Drummers Trent Bryson-Dean and Bob Peele.
So where can you find these albums? Well, they are not quite ready yet! Getting to the point of releasing the albums will be a group effort. Bart has already recorded the albums, but the next step, producing, pressing and launching the albums, is in your hands.
So here's your chance to get in on the goods, because they are good! Pop over to
Bart's Pozible campaign
to check out the project and share what you like about it with family and friends. There are some awesome rewards up for grabs. Get in early for an autographed copy of the new albums, nab some launch concert tickets or even become an executive producer of the albums! It's your opportunity to seed the start of something bigger.
Seriously, we hope it gets you as jazzed up about jazz as we are!