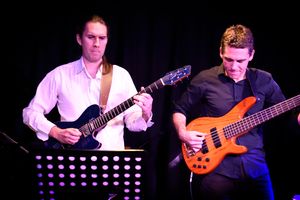 Wood and wire band delivered another stellar performance as a quartet at the Jazz Music Institute, Brisbane, on Thursday 9 April to a packed jazz audience when they showcased their new works set to be recorded later in the year.
Wood and Wire is the creation of Brisbane Bassist and Composer David Galea. They perform all original Jazz works composed by David and have a modern, contemporary sound. Their sound combines the roots of Jazz, Latin, funk and pop into a dynamic and vibrant experience that gets the listener excited about jazz again.
At the recent performance, Bart Stenhouse joined the group on electric guitar, alongside David Galea on Bass, Joe Marchisella on Drums and Cleon Barraclough on Piano.
Keep an eye out for Wood and Wire's next performance and other works by David at 
http://davidgaleamusic.com/