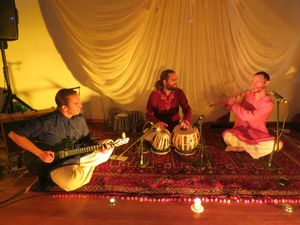 A recent meeting between bansuri flute maestro Shyan Kishore and jazz/world multi-instrumentalist Bart Stenhouse led to an evening of inspiration and exploration between different realms of sound from the North Indian Classical and Jazz roots.
Performed as an intimate house concert in Byron Bay, the evening showcased Jazz-Indo fusion works composed by Bart Stenhouse, as well as traditional Indian Ragas and tributes to compositions by John McLaughlin and ground breaking group Shakti. The audience also got a sneak peak into some new material being developed and recorded by Bart for a new world music album. The new album will be released later in the year and includes a track written to feature Shyan's skill on the Bansuri.
The coming together of Shyan Kishore and Bart Stenhouse transported the audience on an enchanting journey of uplifting and energising tunes through to meditative and soulful song. Adding the final touch was renowned Tabla percussionist Shen Flindell and Mio Shinohara on Tampura.
Be sure to follow 
Bart Stenhouse
 and 
Shyan Kishore
 to keep abreast of upcoming performances and hidden house concert gems.