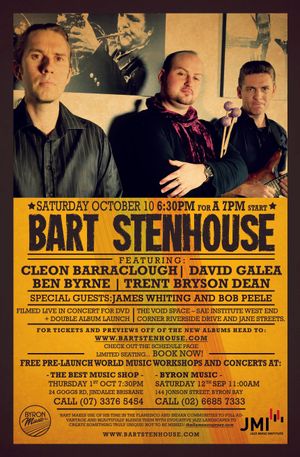 Liberation on the 26
th
of May may sound like an arbitrary name for a song, but it has special meaning for jazz and world musician Bart Stenhouse. That was the day Bart set his sights squarely on every musician's dream – to produce, release and perform his own music – and a free music workshop and Pozible crowdfunding campaign might just get him there. 
This has been a big year for Bart. Following a move from Brisbane to Byron Bay to pursue his musical passions, Bart has spared no time in recording two new world jazz fusion albums featuring his original compositions. 
"Best of Times and Five Days in Granada are two albums that blend and explore the signature rhythms and harmonies of different world music cultures with the music genres that I like, including jazz, rock, blues and funk", explains Bart. 
"These albums have been inspired by my recent travels across North America, Spain and India. I have fused the musical styles of these cultures together with my own unique playing style to create a sound that leaves the listener energised and ready for more". 
The end result is a mix of dynamic, instrumental melodies and solos showcasing popping Indian rhythms through to firey flamenco harmonies. 
The songs are brought to life on the albums by some of Australia's best up and coming jazz cats, including Vibraphonist James Whiting, Pianist Cleon Barraclough, Bassist David Galea, Tenor Saxophonist Ben Byrne and Drummers Trent Bryson-Dean and Bob Peele. 
So where can you find these albums? Well, they are not quite ready yet. 
"My goal is to launch the albums live, in concert, on Saturday 10 October this year at the SAE Institute in Brisbane" said Bart. "To do this though, I need some support". 
Bart has set up a Pozible campaign to give him the chance to master, press and release both albums and launch them live in concert, with the original recording artists. It's here you can find the albums and get tickets to the live concert launch.
"Everyone can get in on the goods and every contribution counts" Bart said. "I also have a passion for helping others achieve their own musical potential, so as part of my campaign I am offering a free jazz and world music workshop. The workshop is suitable for all types of instruments and players and we will be covering concepts that I have learnt from flamenco, Indian classical and modern jazz music". 
The workshop will be held:
- In Byron Bay at Byron Music, 144 Johnson Street on Saturday 12 September, from 11am to 12.30pm. Space is limited so call Byron Music on (02) 6685 7333 to secure your spot.
-In Brisbane at The Best Music Shop, 24 Goggs Road, Jindalee Homemaker Centre Jindalee on Thursday 1st October, from 7:30pm to 9pm. Space is limited so call Best Music Shop on (07) 3376 5454 to secure your spot. 
You can also head over to
www.pozible.com/bartstenhouse
to lend your support to launch the career of a local and talented musician and listen to some sample tracks off Bart's new albums. 
Tickets for the Dual Album Launch are available through the Schedule Page.