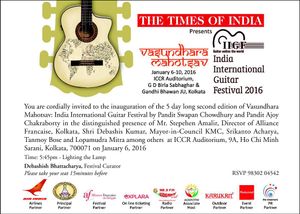 There are over a million guitarists in our country with a mix of slide guitar, Rock,Jazz, blues, and song accompanists, yet we proudly present to you the second year of the first ever India International Guitar festival 2016. The festival was conceived by Debashish Bhattacharya who dedicated it to the cause of creating awareness about the slide guitar which migrated to India during the Second World War. 
Besides patronizing the slide guitar this unique festival brings to you the finest world music bands and artists from various corners of the world. The festival includes the genres of Island Music from La-reunion, French, Irish-Celtic music, American Blues, Country music, Rock Music, World Fusion Music and Indian Classical Music. Each day of the festival will cater to the listener's yearning for music that is new and unheard of. The festival promotes active listening, and experiencing world music live right here in Kolkata.  
On the day of inauguration we will bring to you a collaboration by Israeli bassist Gal Maestro, Master Suryadipta on slide Guitar,  Anandi Bhattacharya from Kolkata and Charu Hariharan from Trivandram followed by a performance of country blues and his own style and set of music called the Acoustronica Blues by Daniel Shane Thomas. The following day hosts the performance of Giuliano Modarelli and his band called the Kefaya, which he conceived with pianist Al MacSween followed by The Bart Stenhouse Band , a Jazz fusion music ensemble. The next day we host the Rock Guitar Night with City's own Amyt Dutta and his group  and the Underground Authority. The final day will be an evening of pure classical music concert the maestros Pandit Swapan Chaudhuri and Pandit Debashish Bhattacharya. 
Input comments DB : " I've travelled since past few months in villages of Bengal, gave free workshops, free guitars and hand picked talents of slide guitar to nurture further through my IIGF. I'm bringing some finest music unheard live before in India. Over forty years I've taught four generations how to play Ragas on slide guitar. Today I'm opening humbly - a door for my kolkatan audience, please always remember it's not a corporate effort, I'm putting on my own this festival It's a humble effort of an Indian Classical musician to bring the world to Kolkata. Welcome you all, support me, enjoy, relax and start your new year with happiness." 
Gal Maestro from Israel a 24 years old western Double bass player says-" I'm very excited from the bond created spiritually and musically through this festival, Debashishji and Tripti ji initiated -is a unique project that fulfill exactly what I feel that is missing today in the conflicting ideologies of the crazy world".  
The festival aims to provide support and scholarships for young guitarists.  
It aims to create an environment where musicians can grow and be enriched among maestros of music who will undoubtedly impart knowledge and an experience that will be memorable for all those who participate. 
The Guitar competitions are another wing of our many facets. The event will be held categorically: there will be prizes for all respective genres.  
Your gracious presence, support  and blessings at the opening and every day is most important.  
At your service 
debashish Bhattacharya and 
Entire IIGF team.