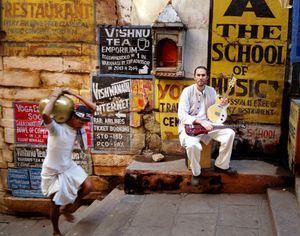 Hi Folks,
I am very excited to announce that my jazz fusion ensemble 'The Bart Stenhouse Group' has been invited to perform at the India International Guitar Festival in Kolkata (Calcutta) India in Jan 2016!!
We are currently running a Pozible campaign and need a little help with covering the cost of the flights to the festival (we are covering the remaining costs ourselves). 
We will be working with some amazing artists in India such as tabla player Shri Subhasis Bhattacharya and violinist Pandit Sukhdev Mishra, and are also taking the fantastic Australian live sound engineer Mike 'Beachy' Wild with us to record the set to release after the festival (which is included in the rewards for the campaign)!
Head to the link below to hear, see and read more about the festival, the musicians involved and what awesome goodies you can score as part of it. Have a great weekend, hope to have you on the team! 
http://www.pozible.com/…/-1/5e911cefc3b8653c218dd477f1a01db4